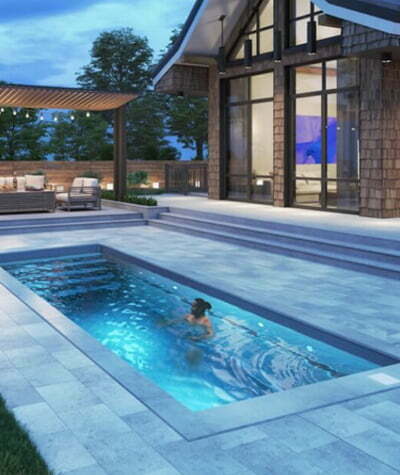 Sale and Installation of
In-Ground Fiberglass Pools
Sale and Installation of In-Ground Fiberglass Pools
Piscine Martin Banville is your fiberglass in-ground pool specialist. With over 30 years of experience in in-ground pool installation, our certified technicians deliver impeccable and personalized service. We chose to offer our customers Mova fibreglass pools because we know they represent the best value for money and energy efficiency on the market. Thanks to their superior insulation process, you can enjoy your pool from Spring to Fall in comfort!
Turnkey Installation Service
We take care of all our own installations. We don't deal with subcontractors. Once your pool is available, installation can be completed in 24 hours, unlike steel or concrete pools which take several weeks to install.
A turnkey installation of your pool includes excavation, geotextile, sump pump and equipment installation, and plumbing.
Fiberglass Pool
Speed of installation | 24 h
Energy efficiency | Superior insulation
Energy costs | Low
Warranty | 25 year 100%
Ease to maintain | Easy
Frost Resistance | High
Annual maintenance costs | None
Steel Pool
Speed of installation | 2-3 weeks
Energy efficiency | High heat loss
Energy costs | High
Warranty | 25 years with depreciation
Ease of Maintenance | Medium
Frost Resistance | Medium
Annual maintenance costs | Medium to high
Concrete Pool
Speed of installation | A few weeks
Energy efficiency | High heat loss
Energy costs | High
Warranty | Limited 10 year
Ease of maintenance | Difficult
Frost resistance | High
Annual maintenance costs | High