Extend your swimming season with a THERMEAU Premium residential heat pump. THERMEAU offers you
high-end heat pumps that exceed industry standards. They highlight the best components
available on the market, which ensures unparalleled performance.
MADE IN QUEBEC!
THE THERMEAU TOP OF THE RANGE HEAT PUMP FOR POOLS AND SPAS ALLOWS YOU TO:
– enjoy your pool and spa for longer thanks to its innovative de-icing system.
The THERMEAU Premium heat pump was designed for the harsh winters of Quebec!
Choose one of our Premium Maximum Performance models below based on your pool type and size, or view the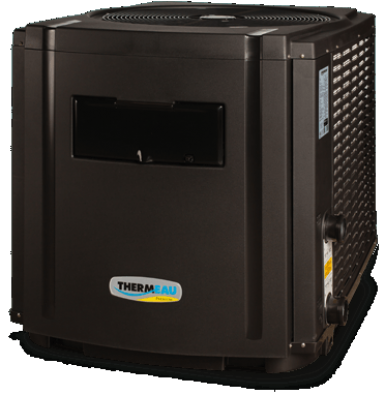 SELECTION OF MODELS FOR INGROUND POOLS
| Size (ft.) | Area (ft.2) | Liters | US Gallons | GOOD | BETTER | BEST |
| --- | --- | --- | --- | --- | --- | --- |
| 12 x 24 | 288 | 45,460 | 11,900 | P65 | P65 | P65 |
| 14 x 28 | 392 | 61,323 | 16,200 | P65 | P85 | P85 |
| 15 x 30 | 450 | 70,092 | 18,500 | P105 | P105 | P105 |
| 16 x 32 | 512 | 79,871 | 21,100 | P105 | P105 | P125 |
| 18 x 36 | 648 | 102,285 | 26,700 | P125 | P125 | P140B |
| 20 x 40 | 800 | 124,918 | 33,000 | P140B | P140B | P140B |